SSAS Practitioner.com's 5 star SSAS 
Defaqto
Our SSAS is one of the highest quality offerings on the market; this is evidenced by the 5 star rating awarded by independent financial research and software company Defaqto. 
Defaqto are an independent financial information business, focused on helping financial institutions and consumers make better-informed decisions, and specialise in rating, comparing, and analysing financial products and funds. 
In choosing which criteria to use for rating SSASs, Defaqto have considered a wide range of issues, and taken into account information available from a wider range of sources, including the following:
Defaqto insight analysts market knowledge;
Market development over recent years;
Proposition developments - both recent and potentially during the rating period;
Industry trends and changes; and
Regulation developments - both current and proposed regulations.
Knowing that our SSAS has been rated based on its quality, and has been rigorously examined against numerous criteria, means that you will be making a well-informed choice based on an expert and unbiased assessment.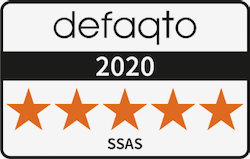 ---
For anyone considering setting up a new SSAS, or moving the administration of their existing SSAS, our independent ratings will enable a well-informed and confident decision: Using SSAS Practitioner.com will result in service of the very highest quality.